Winter in the Leech Lake Area – Step Away from the Fire!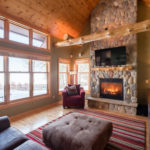 On some of the beautiful winter days we have in the Leech Lake area, you or your visitors may be interested in getting away from the warm, inviting fireplace to hike, cross country ski, or snow shoe. No, we are not kidding!
The Cass County (Minnesota) website has helpful information and maps of the many trails in the Leech Lake, Ten Mile Lake, and Woman Lake area. Here's information about 3 ski trails:
Located near Ten Mile Lake and Hackensack, the Hiram Cross Country Ski Trail has almost 5 miles of classical trails ranging from Easy to Most Difficult. There is one shelter on the trail. A snowmobile trail intersects one of the trails. The intersection is well marked. For many people, snowmobiles are easy to hear so you may be well aware before you get to the intersection that a snowmobile is approaching.
Located near Woman Lake and Longville, the Goose Lake Ski Trail has about 11 miles of Easy, classical trails. All of the trails at Goose Lake are classified as Easy. Although there isn't a shelter along the trail, there is a bench located near Goose Lake, which is about midway along the trail system.
Located near Leech Lake and Walker, Shingobee Recreation Area has about 6 miles of Easy to Most Difficult classical/skating ski trails. It does have a chalet that is open depending upon the weather. It also has a sliding hill. Part of the trail system runs along the Shingobee River.
We have a very active volunteer community in the Leech Lake area. The Lake Country Nordic Ski Club, which is a non-profit organization, encourages cross country skiing, and maintains and grooms a few of the trails in the area. I have hiked or skied the Hiram Cross Country Ski Trail and the Goose Lake Ski Trail, the volunteers do an excellent job maintaining and grooming the trails. They usually have a story in the Pine Cone Press (Longville's newspaper) letting people know when they will be grooming the trails and asking for volunteers.
There are times when you may not want to travel to a ski trail. My neighbors use a snowmobile to groom trails along the lake shore. They will groom two trails parallel to each other, which makes it easy for my neighbor and I to chat while we ski!
We do have warm, sunny days in the winter when it is enjoyable to be outdoors. Of course, there are also warm nights when you can ski or hike in the moon light.
The Heather Hauser Group loves Selling the Lake Country™ – because Winter in the Leech Lake area has so much to offer. Who wrote this blog? HHG member, Denise.